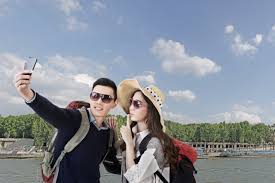 19 Août

Chinese outbound travel maintains double-digit growth

The Chinese appetite for global travel shows no sign of abating, with new data showing that the country's outbound market continues to experience double-digit growth in 2016.

According to the latest figures from the China Outbound Tourism Research Institute (COTRI), mainland Chinese travellers made 18.0 million outbound trips to overseas destinations (not including Hong Kong, Macau or Taiwan) in the second quarter of 2016. This represents a 12.5% increase compared to Q2 2015.

The number of mainland Chinese visitors to these three "Greater China" destinations declined 3.7% however, meaning that for the first time, more journeys are being made to destinations beyond Greater China (53.3% of the total) than within the region.

In total, 33.8m outbound trips were made by mainland Chinese travellers in the April-June 2016 period, up 4.3% compared to the 32.4m seen in the same period last year. Single-digit growth was also experienced in the first quarter of 2016, and while COTRI admits that this is "sluggish" compared to previous years, it says that the statistics alone don't reflect the more significant trends taking place within Chinese outbound tourism.

For example, mainland visitor numbers to Macau edged up just 0.9% to 4.8m in Q2 2016. This follows 2015's drop-off in arrival numbers amidst the Beijing government's anti-corruption campaign, which has had a severe impact on Macau's gaming sector. And Chinese visitor arrivals to Hong Kong fell 5.4% to just shy of 10m in Q2 2016, as changes in visa regulations and negative publicity continue to impact travel.
Other regional short-haul destinations however, are booming. South Korea welcomed a record 2.1m Chinese arrivals in Q2, representing a year-on-year jump of 36.3%, while mainland visitor numbers to Japan reached 1.6m, up 27.8%.

For long-haul destinations, COTRI's research reveals a more mixed picture. Following a number of high-profile terror attacks over the past year, Europe has seen sluggish growth in terms of Chinese arrivals, with some destinations even reporting declining figures. This trend has been counterbalanced however, by a rise in travel to alternative destinations such as New Zealand, Australia and the US, which saw year-on-year growth of 26.5%, 22.6% and 17.0% respectively.

COTRI noted that security concerns have a significant impact on Chinese tourists' choice of destination, although the market's overall desire to travel overseas remains strong.